Alabama Crimson Tide vs Michigan Wolverines Tickets
September 1, 2012 | Cowboys Stadium, Arlington, TX
Get tickets for the September 1, 2012, Alabama Crimson Tide vs Michigan Wolverines game at historic Cowboys Stadium, Arlington, TX. Catch the opening must see game for the Crimson Tide that will kick off the 2012 season. This is going to be a huge game at Cowboys Stadium that will not disappoint. Watch these two powerhouse teams battle it out in Texas. Tickets for these teams are always in high demand so get in on the action early and see this event live.
To order tickets online click the links below or call 888-839-6816 to order by phone.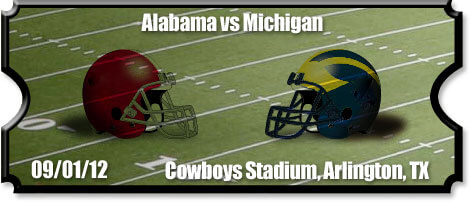 Cowboys Classic: Alabama Crimson Tide vs. Michigan Wolverines Tickets
Dallas Cowboys Stadium, Arlington, Texas
Saturday, September 01, 2012 time: TBA
December Coupon - Expires 12/31:
$40 off all orders $400+. Gift Card ID = SAVE40.